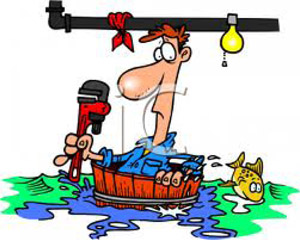 Every day, we receive calls at Agency Consulting Group asking us for a "basic template" to do something. The caller, a professional in the insurance agency industry, calls our office, a consulting firm specifically for the insurance agency industry, requesting basic instructions for a given project so that they can then fix the problem themself. Perhaps the caller is trying to save a little money… After all, professional services like consulting are an investment, and every agency is trying to stretch the dollar to maintain profitability. Or maybe the agency owner has been doing this for 15, 25, 40 or more years and thinks they are knowledgeable enough to get the job done themselves with just a checklist.
Are you a plumber?
January 2014: I thought I was a plumber. The Arctic Vortex, a meteorological phenomenon with a name like one of Batman's arch enemies, caused a pipe to freeze and burst in my home. Of course, I never figured it would happen to me and armed with my trusty pipe wrench I attacked the problem. Moments later, with water pouring from my ceiling into the kitchen, I turned off the main water supply to my home and frantically called as many plumbers as I could until one was able to immediately respond to my emergency. Fortunately, this plumber was also a licensed electrician and general contractor – he was an expert in his field and was the right person to handle my home emergency.
Upon arriving at my home, he quickly assessed the problem, showed me the damage that was serious and also what was cosmetic. He explained how he was going to fix the problem by repairing the pipe and drywall. He even had all of the tools and supplies on his truck. The consummate professional quoted me the price to fix the broken pipe and saturated drywall, and it was a little expensive, but affordable. And he could complete the job that afternoon! But since he'd just explained what to do and how to do it, I thought I'd save a few dollars; investing my own time and a little elbow grease to make the repair myself. I paid him a small fee for the service call, and he was on his way, offering to follow up and help me if I needed assistance.
I immediately began tearing down the saturated sheetrock. First I made a small exploratory hole and was soaked by ponded water. Then I tore out a little bit more. Then I finally found the pipes and ripped out more of the ceiling. Before long, I had 24 linear feet of my ceiling torn down and a web of pipes and electrical wires above my head. This seemed easier when the professional plumber explained it.
I found 2 broken pipes, and went to my local big blue hardware store for the pieces to repair them. After all, I didn't have a truck in the driveway with everything I needed inside like the plumber did. Once there, I realized I had no idea what fittings and connectors I needed. I went home, took a photo of the pipes, then went back to the hardware store where the high school aged kid in the apron helped me find everything I thought I needed. I then went online and watched several repair videos. Those videos prompted me to return to the hardware store once again to purchase the proper tools and some other helpful supplies.
Almost a day later, I finally had the pipes repaired and water restored to all rooms of my home. Now I had to repair the drywall. And I wasn't entirely sure how the water would affect all of the wires that were in the same space as the plumbing. Remember that plumber I called was also a licensed electrician and contractor?
Almost 2 weeks later, after so many trips to the big blue hardware store that they now know my name, and after several trips to the big orange hardware store because I was too embarrassed to continue to go to the big blue hardware store, I still have a partially completed repair. Functionally, everything is works. But the holes remain and the kitchen looks like a partially completed project. How quickly would this job have been completed if I'd invested the money up front for the professional's knowledge, tools, supplies and experience?
Does YOUR Agency look like a partially completed project? We can help!
At Agency Consulting group, our analysts and consultants have years of experience with knowledge from working with hundreds of agencies across the country. We've worked with some very large agencies generating over $10 million in revenue, and we've worked with some very small agencies generating less than $50,000 in commissions. Through the years, our consultants have attained a level of experience that makes the investment in professional services well-warranted because the plans and strategies that can be provided to your agency to meet your agency's objectives in a fraction of the time compared to doing it yourself.
Rather than a D-I-Y "template" to complete a project, or increase your agency's competitive footprint, or develop your producers into salespeople that grow the agency, allow us to be your trusted advisors to guide you through and avoid costly pitfalls along the way. Instead of a "checklist" to buy or sell an agency, or hire the right people, or create a strategic plan, allow Agency Consulting Group's consultants to apply the decades of experience to your agency's needs, because the wrong hire or a bad agency acquisition will cost you significantly more than a few days of consulting up front.
Whether you are considering a change in your agency to grow, become more productive and profitable, or if you have already begun those changes and don't know where to go next, Agency Consulting Group stands ready to help you and your agency. To confidentially discuss your agency's situation with one of our consultants, call us at (800) 779-2430, or email info@agencyconsulting.com and let us use our experience to help you.