The Agency Budgeter permits you to create and manage a budget that is both flexible and easy to operate and, for the first time, shows you current annual FORECASTS for every line of revenue and expense every month.
FEATURES:
Permits you to add Revenue categories and to change names on revenues or expense categories.
Permits you to enter historical data for comparative purposes.
Provides an on-going Forecasting tool that updates forecast monthly (based on historical results and budgeted projections) for every line of income and expense.
Provides budgeting worksheet that trends this year's revenue and expense lines budgets according to prior year distribution of those revenues and expenses (avoids the equal distribution of budget lines that never occurs in real life). If prior year information is not input, budget lines are equalized for reporting purposes.
Provides single page Monthly Report that compares Actual vs. Budget for both Month and Year-to-Date and against prior year Month and Year-to-Date.
The Agency Budgeter is available to you for only $200 (with telephone support and updates, as developed). It comes to you on a CD that can be maintained as a template for future years. Simply access the files and save them on your server for current use. Updates will be issued as the program continues development and will be sent to you automatically.

Call us at 800-779-2430 to order or click on your choice of subscription below to order your copy online. You may also print our order form and send to us with your check.



-- OR --



Annual Budget & Forcast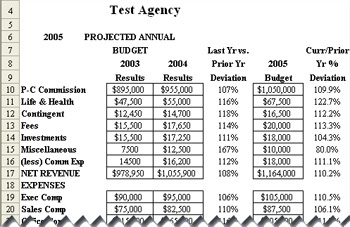 Click on the sheet to get a full page view
A Full Monthly Report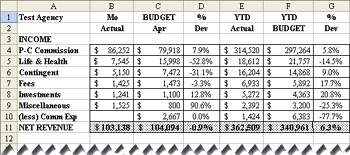 Click on the sheet to get a full page view
Budget Worksheet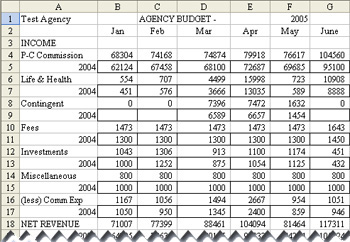 Click on the sheet to get a full page view